High School
With the Lifesaving Society's various tools and programs, nothing's easier than teaching aquatic safety and lifesaving at school! It is an excellent way to contribute to drowning prevention while promoting an active and healthy lifestyle for the students. Remember that initiating them to lifesaving is opening them the door to one of the best student jobs!
The Lifesaving Society is Canada's leading expert on drowning prevention; aquatic safety has therefore no longer any secret for us! To obtain information and advice that are specific to your needs, email us at alerte@sauvetage.qc.ca, or call us at 514 252-3100 or 1 800 265-3093.
We also encourage you to visit the Perfect Swim Website for the most recent and relevant information regarding safety in residential pools.
Why integrate lifesaving to physical education courses?
Because students:
move;
learn about the importance of aquatic safety;
learn lifesaving concepts that can be used in an emergency situation;
learn to save lives and to prevent incidents;
can obtain an award that allows them to work as lifeguards.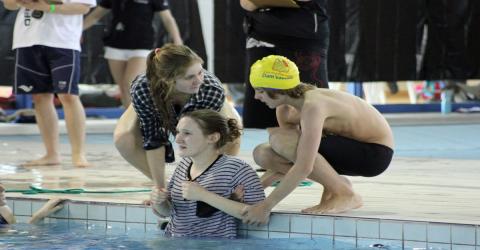 Integrate lifesaving to physical education courses
There are three ways to integrate lifesaving to physical education courses:
Organizing aquatic activities that introduce students to lifesaving by teaching various lifesaving skills and competencies (entries into water, approaching a distressed victim, lifeguarding, self-rescue on ice, etc.).
Offering courses from the lifesaving program: you can teach basic courses from the Bronze levels (Bronze Star, Bronze Medallion and Bronze Cross), which are part of the lifeguards' training program.
Preparing a "challenge": a challenge is an in-pool practical evaluation that assesses each item and competency; it can lead to the acquisition of an award that allows the student to work as assistant-lifeguard.
Have fun but don't rock the boat!
This interactive Website, created in partnership with the Canadian Coast Guard and the National Search and Rescue Secretariat, and in collaboration with Le Groupe Jeunesse 2000, is intended for students, parents and teachers.  It provides a considerable amount of information on safe behaviours during aquatic activities, and includes a fun quiz to test your knowledge on the subject.